Best Write in the Rain Field Notebook for Police
 By Brian Humenuk, MA, COPJOT
Updated on October 28, 2023
3 Minute Read
Law Enforcement Officers across the nation share many things in common but one thing for certain is that they field calls in all kinds of weather including rain, sleet and snow. For some officers it is important to have a police notebook that can survive taking notes in the rain for others it may not be as important.
In 2020 COPJOT started it's own research and development on creating their own write in the rain weatherproof notepad. We reached out to many of our valued repeat buyer customers and asked them what they would like to see in a all weather field notebook.
Write in the Rain Field Notebook
Pocket Size 3in x 5in.

Able to fit in a vest carrier or shirt pocket.

strong paper with universal pattern.

Top spiral bound.

75-100 sheets of paper with a lined pattern.

Think cover and back for writing support.

Tactical. Meaning quick and easy to use.

Reference for Miranda Rights and phonetic alphabet.

Evidence gathering rulers.
The All Weather Notepad that we went with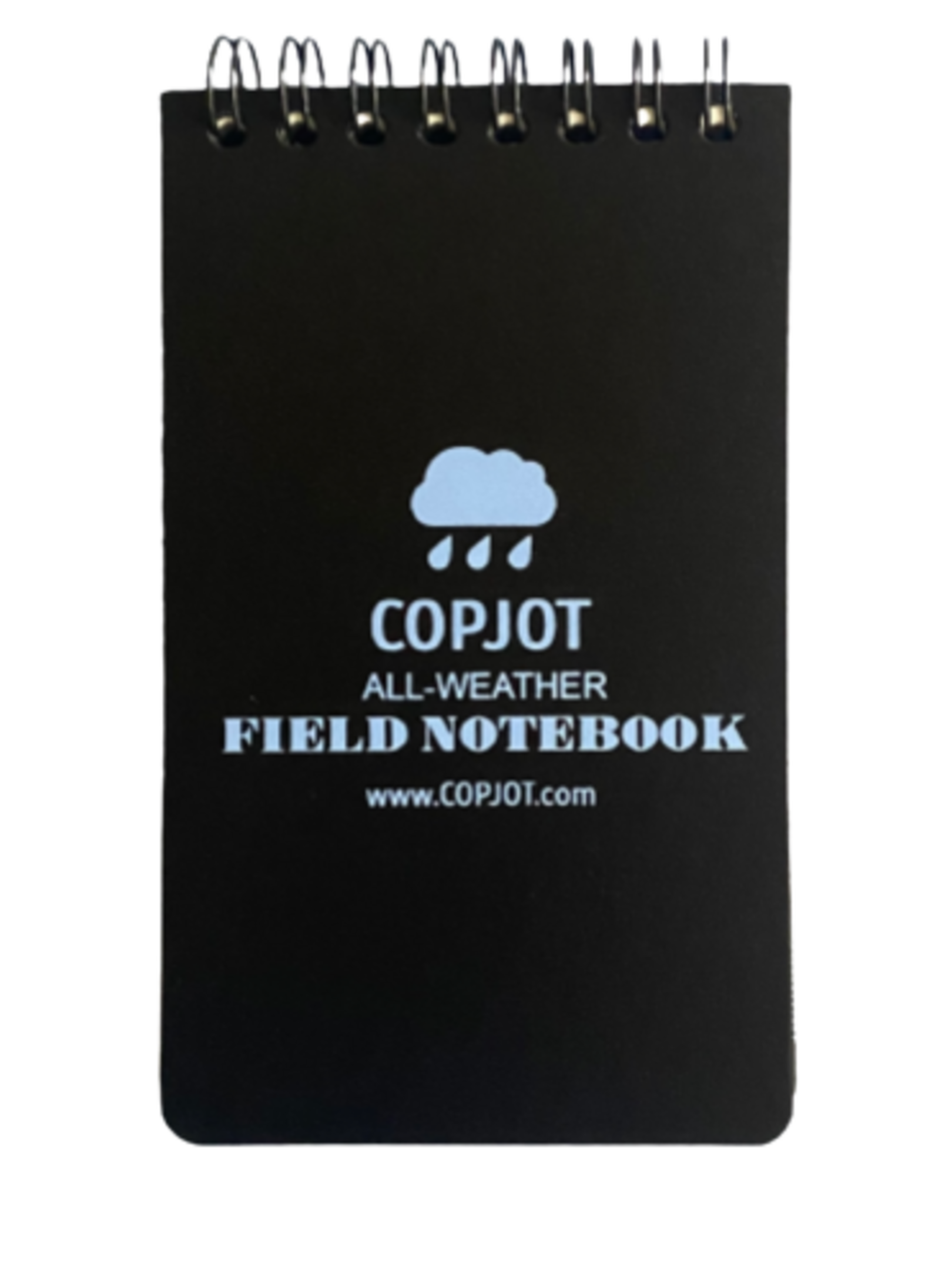 We prototyped 3 and then decided overwhelmingly to go with our current version of the Write in the rain field notebook for police.
The notebook is black with a nifty color blue used on both the front and rear covers. It is 3x5 with 75 pages like our valued customers asked for with a thick cover and back which gives nice support while writing. 
It is simple to use yet packed with police investigation features.
One of the consistent compliments we get on the notepad is that the sheets of paper are tough yet pens write extremely smooth on them and the paper can be slightly difficult to tear off the spiral. The paper itself is white and the page pattern is black-lined on both sides.
Miranda Rights are conveniently placed on the inside of the front cover for when you are interviewing suspects. The phonetic alphabet is on the inside of the back cover along with evidence rulers. There is a box on the inside of the back cover where you can use a Sharpie to write your name and ID number in case you misplace the notepad. As for being tactical the notepad is black and can fit in many uniform pockets.
Of course, our write in the rain field notebook is offered at a great price just $12 for 2 with free domestic shipping.
The reviews sent in thus far have been great and the customer reorder rate is just where we expected it to be. Officers are adding this tough notebook to their police gear and coming back for more when they run out.
---